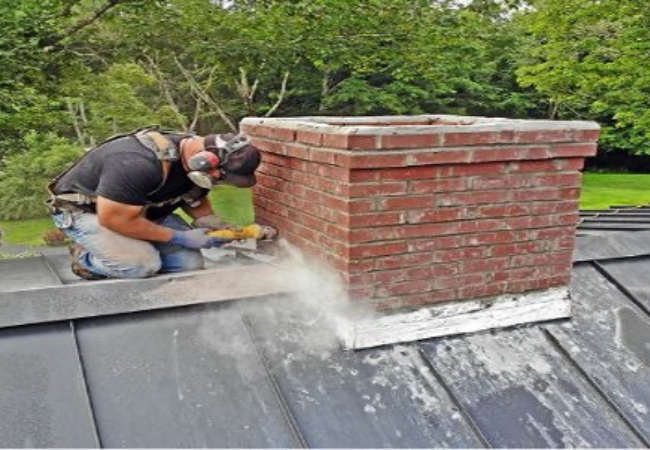 Welcome to A1 Top Quality Roofing, the leading business in New Jersey for high quality expert chimney services. We have set it our priority to deliver every customer the finest, most affordable chimney repairs, replacements, and cleaning services ever since we initially established our business.
A1 Top Quality Roofing is a family-owned and operated business to offer the best chimney repair services in New Jersey with the finest customer service as our keen objective. Are you looking for the most reliable and affordable chimney repair services in New Jersey, then A1 Top Quality Roofing will be the perfect pick for you because we deal in a wide range of chimney inspection and repair solutions including chimney cleaning, relining, and replacement of chimney caps. Our team of expert technicians provides competent services with expertise, We offer chimney services that are unmatched in professionalism, timeliness, and durability.
Does My Chimney Require Repairs?
Stone, masonry, terra cotta tile, metal, and even wrought iron are just a few of the various masonry and non-masonry elements that are involved in the building of a masonry chimney. With prolonged exposure to environmental factors, these compounds degrade. When subjected frequently to the freeze/thaw cycle, moisture seeps into the building elements, freezes, expands, and stresses the elements, and they gradually deteriorate. The water inside the chimney damages and, under certain circumstances, even destroys the components of your chimney. However, you won't need to bother about this as A1 Top Quality Roofing professionals thoroughly capped your chimney.
Water damage to your home or chimney can cause both internal and exterior troubles, such as cracked or broken stonework, degradation of damper assemblies, as well as damage to metal firebox assemblies due to leaks. Moreover, excessive moisture content or exposure to water may trigger central heating systems to malfunction or the system flue lining may collapse. Your chimney's exterior is constructed from bricks, but the mortar lining those joints may crack and become brittle over time.
Chimney Repair Services in New Jersey
We offer a complete selection of chimney repairs, such as flue relining, chimney cap installation, as well as installation of energy-saving chimney damper. To guarantee your absolute satisfaction, these chimney repair services are provided by professional contractors and chimney specialists from A1 Top Quality Roofing.
Replacement of Chase Cover:
If your fireplace and chimney are prefabricated, it is more likely that the thin metal cover that lies on top of the chimney is composed of rust-prone, cheaper-quality galvanized steel. Our expert professional technicians can guide you in this regard and provide you with the best chase cover repair or replacement services in New Jersey.
These structures, which resemble tiny roofed screened houses, have many significant functions. Chimney Caps can be subject to damage due to rough weather conditions and demands immediate repair to avoid further deterioration of your chimney.
A chimney crown is the masonry cap, or "cover," that shelters the mortar and brick structure of your chimney. This vital crown protects your chimney from water logging and safeguards the brickwork below from deterioration. To ensure the safety of your chimney system, you must keep an eye on the emerging troubles related to your chimney cap. We can help you to spot these damages and rectify them as soon as possible.
A chimney ought to be relined if the vent tiles are damaged or missing, if a new heating system has been installed, or if your chimney is getting aged. If you notice any problems related to chimney flue lining, you should contact your local chimney contractor to look into the issue and suggest suitable repair procedures.
Energy-saving Chimney Damper:
Using an energy-saving chimney damper will reduce the expense of heating and cooling your house. These newly created dampers have a silicone adhesive sealant that firmly locks your chimney, preventing costly heat loss.
The majority of homeowners in New Jersey wrongly believe that masonry structures, such as brick and stone chimneys, demand little maintenance.  Much older bricks can crumble and become unstable as a consequence of weakening mortar with time. If your masonry chimney shows any signs of damage such as cracks or fissures, you must consult a skilled chimney repair expert right away.
Why choose A1 Top Quality Roofing?
One of the leading chimney repair contractors in New Jersey, A1 Top Quality Roofing offers a wide range of customer-satisfying chimney repair services in New Jersey. Our employees are highly skilled and certified that can offer a wide range of reliable and cost-effective chimney repair or maintenance services as a top-ranked local roofing contractor in New Jersey. We are a chimney repair and structure Restoration Company located in New Jersey, and we assure you that our services will extend the lifespan of your chimneys. We offer the following chimney repair services in New Jersey.
Time is precious, so our professionals and experts at A1 Top Quality Roofing always provide on-time service for our customers on the exact day that it is scheduled! Since time is precious to us, we are very conscious of your requirements and desires. With us, our professional staff will offer you quick, same-day services. Just choose the service you desire, select a time slot, and our contractor will be prepared to get started at the scheduled time with all the appropriate tools to have your chimney operating properly.
Highly Qualified and Skilled Technicians:
As we maintain a focus on the quality of service, we have organized a group of highly skilled and knowledgeable technicians capable of offering you perfect services at the most reasonable rates. Our team atA1 Top Quality Roofing is comprised of exceptionally trained individuals with years of experience and advanced training in similar areas. In contrast to this, we continually train and motivate our experts to deliver the best chimney repair service in New Jersey for every single of our clients.
100% Satisfaction Guaranteed:
We always seem to go over and beyond to guarantee that our clients are fully satisfied as this is our top priority. Since we at A1 Top Quality Roofing value every one of our clients, we deliver chimney repair services in New Jersey locally in a manner that guarantees 100% client satisfaction. By choosing us, you can unwind and get an outstanding service at your doorstep that will genuinely satisfy you.
Background Verified Team:
With A1 Top Quality Roofing, your chimney repair problems are constantly addressed by a qualified, background-verified technician because all of our workers and experts have had their backgrounds verified and certified by the authorities. A reason, you may relax at the house while a reliable team of professionals repairs your chimney without being concerned. Our skilled staff is courteous and always willing to help you with any issues with the chimney in your house.
Reliable and Trustworthy Chimney Repairs:
Most New Jersey residents trust A1 Top Quality Roofing, a reliable and honest chimney repair and roofing company. Thereby, if you're looking for reputable and competent chimney repair services in New Jersey, you can rely on us as we value our client's dignity and go further than necessary to offer dependable services without extra charges or hidden costs.